Sertco Solutions
DESIGN SERVICE CONDITIONS
Sertco Industries Model 350 Series compressors are designed to handle a wide variety of conditions in wellhead compression. Specific applications are designed using known well data such as suction and discharge pressures, suction temperatures, the anticipated amount of fluids and desired gas flow.
SUCTION SCRUBBER
ASME 500 PSI 20" O.D. X 52" SUCTION SCRUBBER / BLOWCASE
ASME carbon steel code stamp vessel
Combination scrubber/blowcase handling up to 100 BPD fluids
Mesh pad type elements (304SS) installed
High fluid level shut-down switch
Kenco high pressure sight glasses with ball checks
Automated dump valve system
Manual drain valve
AIR COOLER
ASME Induced Draft AC/EJW stacked oversized Cooler
Process Gas / Engine Water Cooler
Air Cooled Heat Exchanger Manufactured by AXH including:
EJW (Water) and AC (Gas) cooling sections supplied as follow:
Designed for 20 F approach temperature
Manual individual gas louvers
Tube Material –SA214 seamless steel tubes
ASME code stamped – gas sections
500 PSI MAWP gas section
50 PSI MAWP water section
Header Material - SA-516-70N – gas
Header Material – A-500 – water
Approximately 12,252 FPM fan tip speed
UNIT ELECTRICAL
Wiring of all on-skid devices in conduit and junction boxes
CONTROL PANEL AND PACKAGE INSTRUMENTATION
Standard Panel - Annuciator Based
Console control panel
Panel instrumentation for all operating functions
Steel panel cabinet
Altronic DD-40NTV-0 annunciator
Engine JW Temperature gauge
DISCRETE INPUTS
CLASS B1
Low pressure - suction
Low pressure - discharge
High pressure - suction
Loss of speed signal (integral to annunciator) - signal from magnetic pick-up
CLASS B2
Low pressure - engine oil
Low pressure - compressor oil
CLASS A
High pressure - discharge
High temp - compressor discharge - left bank
High temp - compressor discharge - right bank
High temp - engine jacket water
High level - scrubber
High/Low level - engine oil
High/Low level - compressor oil
Low level - engine water
Vibration - compressor
Emergency stop - local – push button on panel
Overspeed (integral to annunciator) - signal from magnetic pick-up
DISCRETE ANNUNCIATOR CONTROL OUTPUTS
Mode selector switch - idle / manual / auto
Manual speed potentiometer
Unit panel power switch - off/on - on panel insert.
PACKAGE FEATURES
3/8" plate structural skid with 80 gallons fluid containment capacity
Hospital grade, flame arresting lifetime muffler design
CNC machined skid brackets and details for perfect fit and interchangeability
Suction control valve with positive shut-off system when compressor shuts down
ASME code scrubber/blowcase with up to 100 - 300 bbl/day fluid handling capability with the ability to re-inject the fluids into the discharge gas stream. System designed for maximum efficiency adapting to fluctuating discharge pressure conditions with increased discharge pressure only when needed for the dump cycle.
Engine jacket water heat trace system prevents liquid from freezing in blow case.
Process piping constructed with S 80 A106 grade B seamless carbon steel pipe with carbon content < .43%
ASME code oversized gas aftercooler designed for 20 F maximum discharge temperature above ambient temperature under all operating conditions
Standard oversized engine jacket water cooler for ambient conditions up to 105 F
Driveshaft coupling between compressor and driver eliminates the need for alignment procedures and is designed to break and protect the compressor if it receives liquid in the suction. Also allows for compressor/driver replacement in the field in less than 4 hours.
Puller fan, roof and heat trace system prevent freezing of piping, tubing and vessels on skid with ambient temperature @ -20 F
30, 60 and 90 day service schedule based on load, RPM and gas composition
Heated 25 gallon oil daytank and automatic level controllers provides make-up oil to both driver and compressor for 90 days
Optional custom powder coated trailer with dual-axel electric brake system and integrated leveling jacks eliminates site preparation and provides an easy method of transporting compressor with ½ ton truck.
Optional integrated, removable roof structure with hinged side panels protects all belts and hoses from UV rays and protects the skid from collecting rain water and potential oil spills
Optional low suction pressure make-up system prevents unnecessary shut-downs when gas flow rate fluctuates. System also prevents vacuum operation if desired.
Optional package bypass system allows gas production to continue if the compressor shuts down.
UNIT PAINT
Sertco HIS Industrial Coating paint details:
Commercial Sandblast
Primer – 2 coats of red oxide high solid polyamide epoxy primer to 5.0 mils DFT
Top coat – 2 coats acrylic, aliphatic polyurethane in any color combination to 3-4 mils DFT
MISCELLANEOUS
The following items are included in our Scope of Supply:
no-load spin test of compressor at Sertco works;
unit run test of main driver at Sertco works;
ONE (1) hour no-load mechanical run test of compressor system at Sertco works complete with loop check / continuity test of all unit instrumentation.
Driver Options
GM 5.7 Liter, Natural Gas Fueled Industrial Driver, 8 Cylinder, 80 HP Continuous @ 2100 RPM
Feature/Benefits
Hydraulic roller lifter camshaft is optimized for maximum performance
Composite front cover for noise reduction
Nodular iron crankshaft has enlarged journal fillet radii for increased durability.
Sintered powdered-metal exhaust valve seat inserts for enhanced durability.
Induction-hardened inlet valve seats for maximum durability
Exhaust valve rotators improve valve and valve seat durability.
Externally balanced engine
Positive inlet valve stem seals to control oil consumption
Aluminum intake manifold
High Energy Ignition (HEI) distributor and coil are standard
Engine Sealing System
One-piece viton rear main seal
One-piece oil pan gasket
Composite graphite cylinder head gaskets with stainless steel core
Non-asbestos gaskets throughout
Molded rocker cover seal
General Data
Type: 90 5.7L V8
Displacement: 350 cid (5736.50 cc)
Compression Ratio: 9.4:1
Firing Order: 1-8-4-3-6-5-7-2
Oil Pan Capacity: 22 qt with oil filter
Valve Configuration: Pushrod Actuated Overhead Valves
Valve Lifters: Hydraulic Roller
Bore X Stroke: 4.00 in x 3.48 in (101.60mm x 88.39 mm)
Main Bearing Caps: 2-Bolt
Balance Method: External
Intake Manifold: Four barrel Carburetor or Mixer
Fuel Types: LPG or NG
Engine Rotation: Clockwise (from the front)
Paint Protection: Component Painted
Shipping Weight: 582 lb (264 kg)
Materials
Block: Cast Iron
Cylinder Head: Cast Iron
Intake Manifold: Cast Aluminum
Main Bearing Caps: Cast Iron
Crankshaft: Nodular Iron
Camshaft: Cast Iron
Pistons: High Silicon Content Aluminum
Exhaust Seat: Sintered Powdered Metal Insert
Engine Governor Control
Electronic GAC governor control
Engine Electrical Supply / Ignition
Standard 12V alternator/regulator
SAE J1171 HEI distributor with outboard coil ignition system
Engine Starter System
WPS electric MT10 high torque starter
ONE (1) ORIGIN 8.0 Liter, Natural Gas Fueled Industrial Driver, 8 Cylinder, 125 HP Continuous @ 2100 RPM
General Data
Type: 8.0L V-8
Displacement: 488 cid
Engine Orientation: Longitudinal
Compression Ratio: 10.5:1
Valve Configuration: overhead Valves
(2 valves per cylinder)
Assembly Site: usa
Valve Lifters: Hydraulic roller
Bore x Stroke: 107.95mm x 107.95mm
Main Bearing Caps: 4-Bolt main
Balance Method: internal
Intake Manifold: single plane
Fuel System: optional
Fuel Type: carburated Lp & nG
Oil Pan Capacity: 12 qt with filter
Engine Rotation: counter-clockwise
Materials
Block: cast iron
Cylinder Head: cast iron
Intake Manifold: aluminum
Crankshaft: Forged steel
Camshaft: steel Billet roller
Connecting Rods: Forged steel
Pistons: Hypereutectic Moly coated
Exhaust Seat: industrial Grade super alloy
Intake Seat: industrial Grade super alloy
Intake Valves: stainless steel
Exhaust Valves: stellite/inconel
Electric motor equivalent available upon request
Optional Features
Roof
Trailer
Dump to Discharge
C1D2
Common venting
Coalescing Scrubber
Liquid Flow Meter
Gas Flow Meter
Fuel Scrubber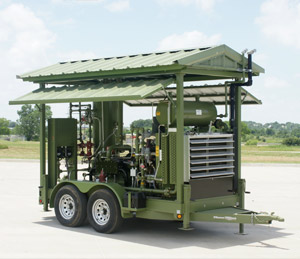 Model 350 Information Request
if($notice){ ?>
} ?> if($nice_notice){ ?>
} ?> include("cgi-bin/modules/send_email/library/public_contact_request.php"); ?>
Sertco Model 350 Compressor Features
100% CNC machined
356-T6 cast aluminum frame, cylinders and oil sump construction for rapid, even heat dissipation and corrosion resistance
8 cylinder, balanced horizontally opposed cylinder arrangement provides high flow capacity, low vibration and even distribution of rod & crankshaft loads
Rotating assembly constructed from standard off-the-shelf components reduces initial and overhaul cost and provides for excellent availability
Rotating assembly internally balanced to 3 grams for vibration reduction and maximum efficiency
Cast aluminum alloy piston with chromoly "gapless" compression rings for blow-by control
Forged steel connecting rods balanced and fitted with ARP heat treated 8740 chromoly rod bolts
Clevite TriMetal low friction, high conformability main and rod bearings
Centrifugally spun-cast high nickel iron alloy replaceable cylinder sleeves
Hoerbiger 60RX valves with 0.047" suction lift and 0.039" discharge lift reduces impact velocity providing industry leading reliability and flow characteristics
Discharge valves placed at the bottom of the cylinder for moisture ejection
All metallic valves and piston rings increase compressor ratio capability beyond typical reciprocating compressors
Low (9.5%) fixed clearance billet aircraft aluminum head design allows for valve inspection and replacement without removal of piping
All fasteners are grade 8, coated for corrosion resistance
Inexpensive automotive oils acceptable (no need for synthetic)
External oil pump for ease of service and flow adjustment
Tolerant of limited impurities in the gas stream
Quad discharge ports for pressure drop minimization
Standard size Viton o-ring seals throughout
Dual automotive oil filters and 4.5 gallon oil sump for extended service interval